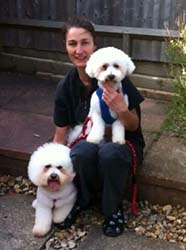 Biography
Sussex born and raised, I am passionate about the correct care and treatment of dogs. Through experience and training I treat every animal with respect, love and dignity. Grooming is a very demanding career, but one I thoroughly enjoy, knowing I am helping both dog and owner achieve the best for their dog.
Using TTouch I am overwhelmed by the way we can enable our animals and their owners to find the best way to be everyday, and to encourage living life to the full. I believe everyone deserves the best.
Whilst a home-checker for the RSPCA and local Rescue Centres, in the past I have also fostered and walked dogs on behalf of the Cinnamon Trust, which gave me great pride to do.
Qualifications
2020 – Awarded P2 TTouch Practitioner for companion animals
2020 – Reiki 1
2020 – Awaiting full assessment to full membership of APDT – currently Student membership status
2019 – Completed and passed Advanced course APDT
2019 – Completed and passed Basic course with APDT (Association of Pet Dog Trainers)
2014 – Hand Stripping workshop with Vita Canis, to add further knowledge
2013 – Canine First Aid course with Training Together
2012 – Completed additional dog grooming training with Canine Design Academy
2012 – Achieved standard of "Excellence" in kind and effective handling and control whilst on course with Canine Design Academy
2012 – Graduated as P1 TTouch Practitioner for companion animals
2011 – Qualified TTouch Practitioner in Training for companion animals
2011 – Qualified to Microchip cats and dogs – Avid Microchips
2010 – Qualified with Distinction in the Development of Professional Dog Grooming OCN Level 2 (A more thorough course than the City and Guilds) with SCC.
2010 – Qualified with Distinction in OCN Business Studies – Sussex Canine Centre (now the Dog Hut Biz)