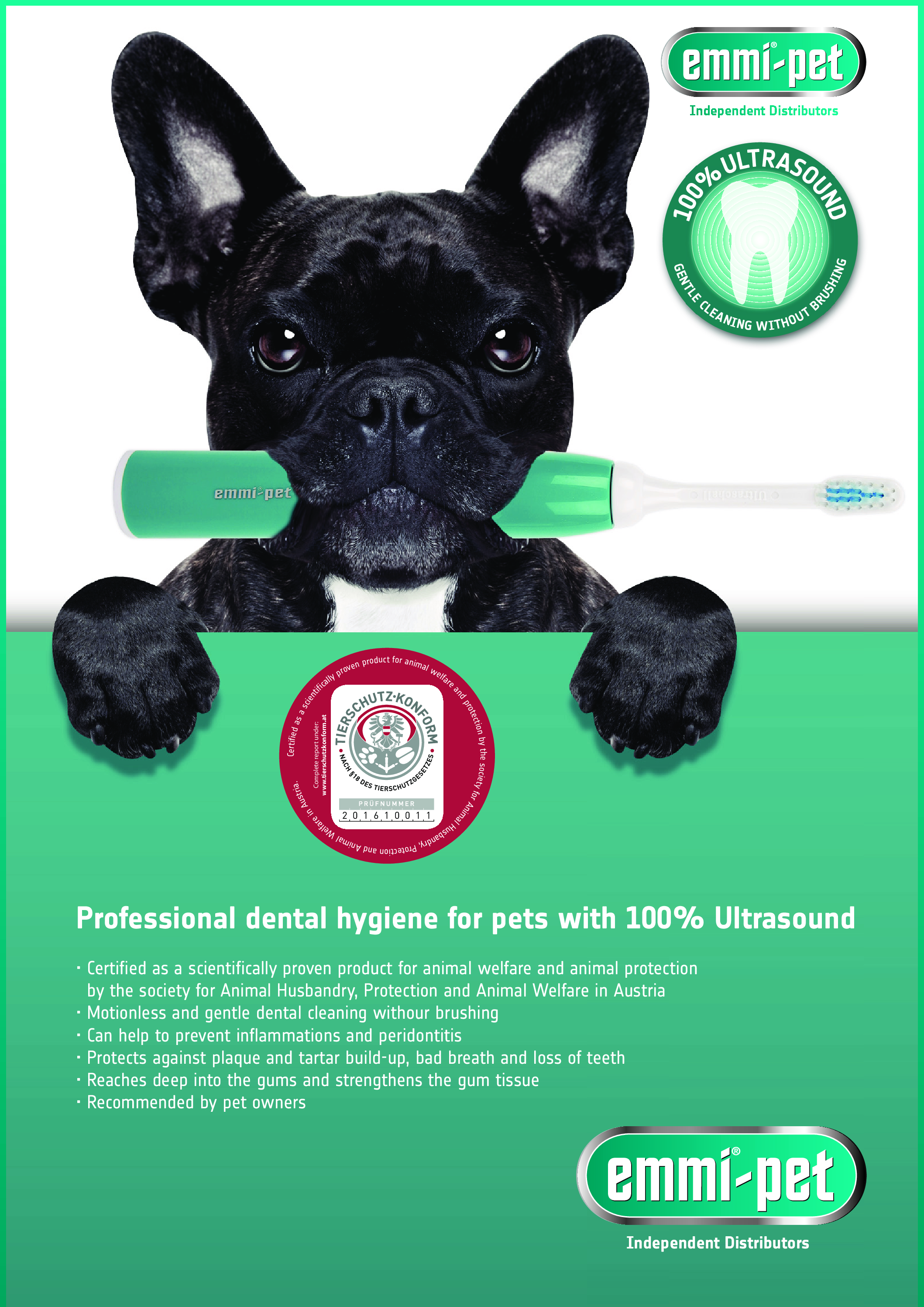 Stylish Fido can now offer the following dog teeth cleaning service
Introducing the Emmi-pet system
Headlines
It is completely silent
Non vibrating toothbrush
You do not even need to move the toothbrush around so the dogs don't mind
It's completely safe for all dogs, the ultrasound waves are just harmless air vibrations
It cleans deep into the gum line so not just where you can see but where you cannot see….
An ultrasonic toothbrush? 
Keeping your dog's teeth clean is very important. It can help prevent a build-up of plaque and tartar as well as helping fight dental diseases like periodontitis. And it can help fight bad breath, tooth loss and gum inflammation.
Here at Stylish Fido, we use the Emmi-pet ultrasonic toothbrush system® when cleaning your dog's teeth. 
The Emmi-pet has a piezo chip in the brush head which creates up to 96 million air oscillations every minute. When these ultrasound waves are mixed with the special toothpaste and water it creates millions of nano bubbles which keep imploding on each other – this, in turn, creates a suction effect which removes impurities, plaque and tartar and kills germs and bacteria.
Emmi-Pet is totally silent, non-invasive and doesn't vibrate. It is held against the teeth with no brushing action, all of which results in a much calmer experience for your dog. 
It is suggested that for a new client, 3 separate 30 min sessions within 2 weeks should result in a really good clean mouth.  Once the tartar has been removed, 15min sessions can be booked to tag onto your normal grooming routine, and this will keep the teeth from becoming built up again with tarter etc.
(You will be required to sign the following on your first teeth cleaning visit – I have them printed out)
Emmi-Pet Teeth Cleaning Disclaimer
Thank you for booking Emmi-Pet Teeth Cleaning for your pet. 
Our Emmi-Pet teeth cleaning service is exactly that – a teeth cleaning service.  It is suitable for dogs with mild to moderate tartar build up  It can help heal gum disease, remove plaque and tartar and freshen breath.  The operator is not a veterinarian and teeth cleaning is not a substitute for veterinary treatment where a dog requires dental work beyond cleaning.
Owners should be aware that:
removal of even mild tartar build up can reveal conditions that could not be seen prior to removal that may need veterinary attention.

 

Emmi-Pet teeth cleaning is effective at healing gum disease and removing plaque and tartar but is less effective at removing stating on the teeth.

 

(Staining is cosmetic and has no ill effect o the dog's welfare).
Owner's name………………………………………….
Owners signature………………………………………….
Dog's name………………………………………….
Date:………………………………………….
https://stylishfido.co.uk/wp-content/uploads/2021/07/emmi-pet_Poster_ENG_1-1-pdf.jpg
2993
2117
Caroline Still
https://stylishfido.co.uk/wp-content/uploads/2020/04/header-logo-text2.jpg
Caroline Still
2021-08-02 09:31:45
2021-08-02 09:31:45
Emmi-Pet Ultrasonic Teeth Cleaning System